In this entry of Diamond In The Rough, I will be highlighting 4 star Walker High School running back Demetri Wright Jr.  Currently maintaining a 3.6 GPA, Demetri excels in the classroom as well as the weight room sporting a bench press of 300lbs and squat of 470lbs. Standing 5'10 and 190lbs with a 4.45 forty, Demetri has a good blend of size and speed, which he utilizes on the football field and the track as a sprinter. He is a downhill, between the tackles runner who's feet continue to work for yards even after contact. Demetri has good vision and can be a patient yet decisive runner at times. He has consistent hands as a receiver and is a willing blocker in pass protection. As a person, he comes off as a humble an intelligent young man who knows the value of hard work. Here are some snippets from our talk.
How'd you get into football initially?
Well I always use to walk around with a football in my hand. When I was six year old, I was playing in the backyard with my cousins and one day I told my Dad to put me in football. I just always wanted to play it.
Why do you still play football?
It's my passion, I'm dedicated to it. I still have love for the game. And you can be as aggressive as you want and not have to worry about getting in trouble. I remember how I used to run around and say, "I wanna play running back". For some reason I always liked the position. Every time we used to play team football with friends I would always play running back. I was always the one that ran people over.
You recently mentioned in an interview that you had a birth defect pertaining to your feet. How did you overcome that to get where you are now?
Hm… My grandma always use to say that I had to be a blessed child because it didn't stop me from doing anything. That it [birth defect] must of gave me extra speed, she used to always joke around about that. But when I was little, like 6 or 7 months old, I had an extra toe on both feet that were subsequently removed. After that I was good.
Outside of football, what is something you like to do?
I make music. I got a couple songs I made off a music app. I make my own beat from the app and rap to it.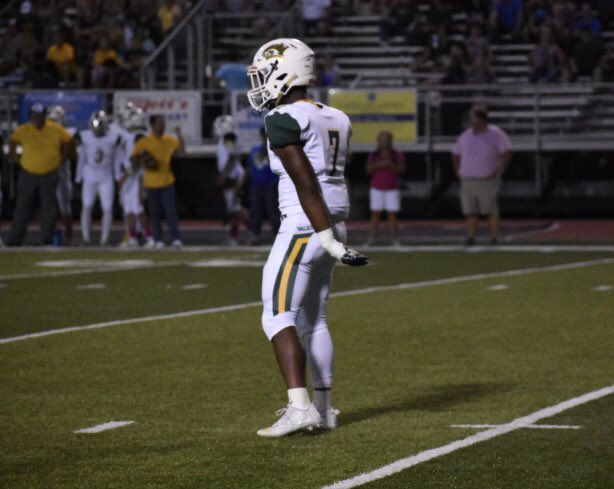 How would you describe your running style?
I'm like a Josh Jacobs type because I can do anything you need me to do. I can block, I can catch passes out the backfield, run people over, and  use my footwork to make somebody miss.
What would you want the coaches to know about you?
That they would be getting a leader. You would be getting a hard working young man coming to your team who is ready to work and change the program. Someone who will buy in the whole time. As a leader I'm vocal. If I see somebody messing up I get on them. If I see someone doing good I tell them they're doing good but also say what they need to perfect.
Who or what has influenced the most in your life?
Probably my Momma. When I look at her I see a strong woman. Well both my parents influenced me really. My Dad stays on me and tells me you don't want to be working at the plant like me. Seeing my mom having two jobs and being a single parent with two kids motivates me to achieve. My little sister also influences me. She's 9 about to be 10 and I do what I do for her too. She doesn't really have a father figure, so I'm kind of like that to her. So I will do what I need to do to help her out and push her to achieve.
What are some things you learned about yourself while playing football?
I learned that I'm not quitter. I had some coaches that were hard on me, but I brushed it off and made plays. I get motivation from people who look over me or talk down to me.
What type of player do you want to become?
The type of player that is never satisfied with my accomplishments. I'm the type of guy that strives for more. We just got out of school a week ago and I'm still putting in work. Even after summer workout ends, I'm in the back yard working on my footwork.
Goals for the upcoming season?
My goal is to get over 1,000 yards rushing with 8-10 touchdowns and win a state championship with my team.
Hey! Want to know more about Demetri? Check out this separate interview below. You can find more interview likes these at our Youtube channel