Quentin Ross is a 2nd team all-district offensive lineman from Woodlawn High School. At 6'3 280lbs, he is a load to deal with upfront. Along with that size. he excels in the weight room with a max bench press and power clean of 315lbs an a max squat of 425lbs. This combination of size and strength is the main thing that flashes on film. Quentin relishes the one on one battles and will fight until the whistle is blown. He is always looking to drive his opponent to the ground and finish. Even if he loses the initial engagement, he recovers well and can stand defenders up to win the block. As a person Quentin is an easy going individual who is personable and honest. To get a closer look at Quentin check out the interview below!
How did you first get into football?
I started playing football at five years old with a youth BREC team. One of my Pre-K friends got me into it. They were telling me about it and kept asking me to come out for it. I remember my first experience being very hot. I felt like I was about to die and I ain't know too much about what to do. I just ran around, hit people, and went with the flow.
Why do you still play football?
I mean I like it! Being able to develop chemistry and meeting new people is fun. Once you get to the next level it can take you places you've never been before. It open up new opportunities.
What has football taught you as a person?
To not take things for granted and to not overthink things. Anything can be taken from you at any time, so you got to be grateful for what you have. Also, it makes no sense to overthink things. Like when you run a play just run the play. You already know it so don't put too much thought into it and just do it. Just like in life. It makes no sense to over think things you already know how to do.
When you line up and you see the guy across from you, what's your thought process?
He's not going to beat me. I'm going to beat him. I'm going to beat him faster than he tries to beats me. Just move fast and stay low. Then I have to make my pre-snap reads. When I'm making my reads I'm looking to see if the linebackers are leaning a certain way and if the DT is titled a certain way. That gives me a hint of where they're going. I'm trying to get a feel of what they're trying to do before they do it.
What's the hardest thing about being a center?
Dealing with guys that are physically bigger than me. To deal with them you can't care that they're bigger, you have to go at them. You got to have that fighting mindset that their size doesn't matter; I will still win. Oh and running. You know I'm a big guy so it's harder for me.
Who or what has influenced you the most in your life?
My mom. She been taking care of me on her own  and we've been through a lot, but we've been through all of it together. The 2016 was real hard from us. We had to stay with me auntie during and after it. Once everything was settled, we worked hard to get back on our feet. Now here we are.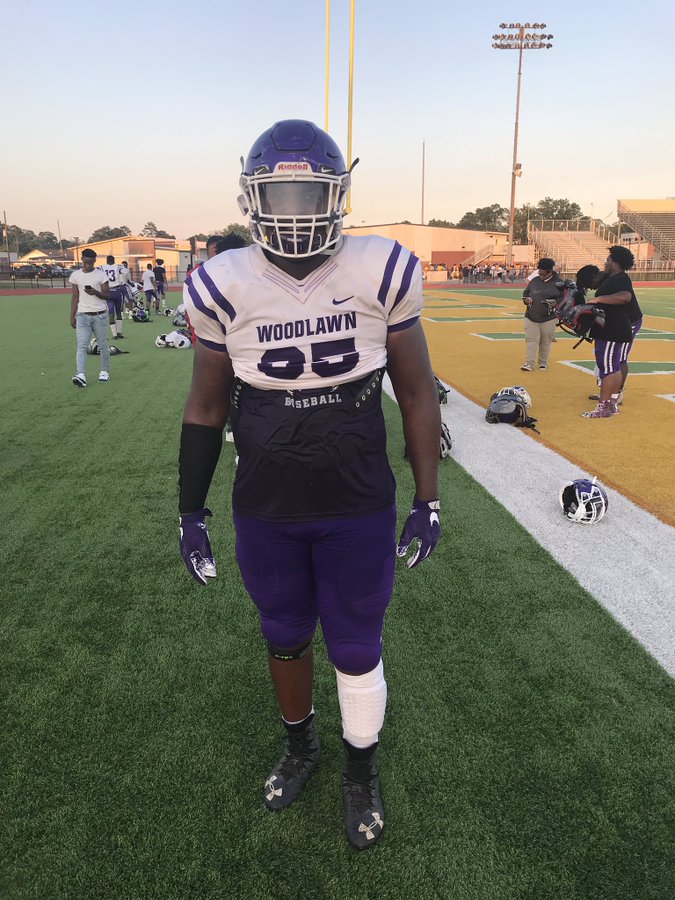 Describe yourself in three words?
Genuine, Sharp, Loyal. I would say genuine because I will keep it real with you. I'm not going to lie to you. Sharp because I can think on me feet and won't let anyone out-think me. And loyal because everything is about trust. Your nothing without trust.
What are coaches getting from Quentin Ross?
They're getting a smart, big, and versatile player. I can play any position on the line. I don't have a favorite position either, I just want to play.
What are some things you like to do outside of football?
You know just chill with teammates and travel to see place outside of Baton Rouge. I've been to Texas, Oklahoma, and California so far and I want to see more of the world.
What are you most looking forward to when it comes to college?
Just being able to live the lifestyle of a college football player. To be able to see what they go through and what it's like. And to see the differences between high school and college.
How would you describe your play style?
I'm more of a straight up guy. I like to get real physical and overpower guys. I use technique here and there, but I like the head to head battles.
Goals for the upcoming
Win district and be on every first team there is. And of course win state.